Karakoram wins Agri-Tech Challenge
UNDP Cultiv@te Award Winner for Innovation in Sustainable Agriculture
18th May 2020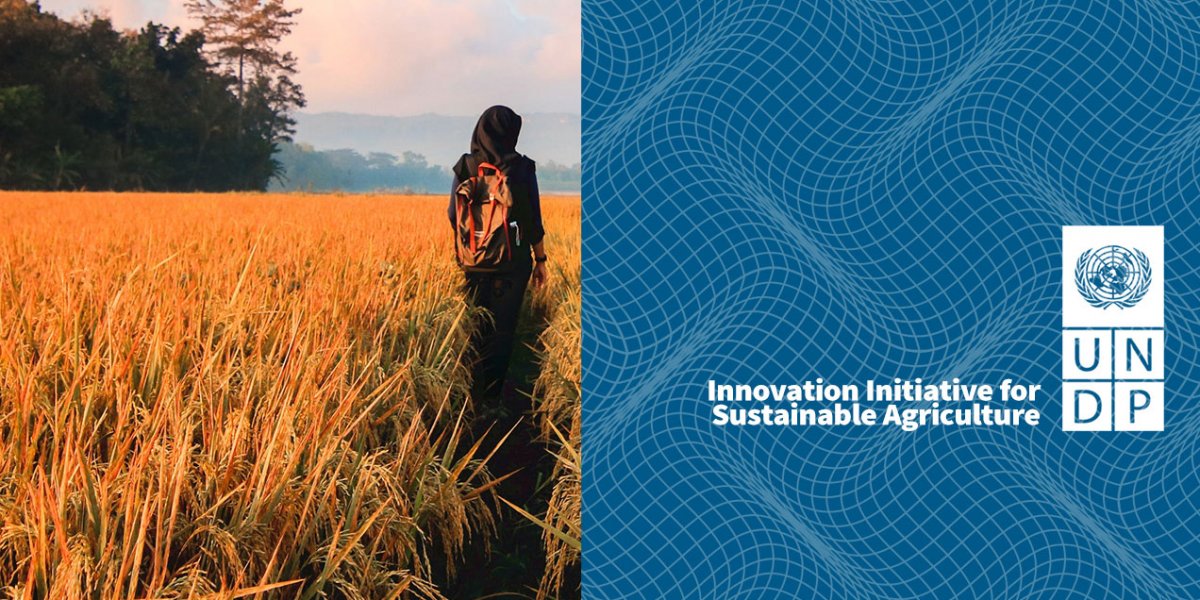 "How can a digital land management system help the Republic of Uzbekistan ensure the sustainable use of pastures?"
In November 2019, the United Nations Development Program put out a global agriculture-technology competition called Cultiv@te with specific agriculture-technology challenges from 13 different member countries, ranging from vertical farming in Singapore to off-grid electricity generation in Kenya.
Karakoram Innovation pitched for the agriculture-technology challenge from the Republic of Uzbekistan, focusing on designing a new land management rotation platform. The Karakoram Innovation group within Glorious Labs; a hardware company with offices in London and Singapore, researched new approaches to soft enforcement of natural resources in Uzbekistan.
At present, 90% of livestock is raised by smallholder farmers, and there is no land management system to help sustainably rotate the countries livestock. Currently, there is widespread, rampant, illegal, and unsystematic use of pastureland in the country. Because of these practices (overgrazing, increasing conflicts over pasture use, lack of monitoring, and inadequate biodiversity conservation measures), 20-30% of the country's pastures have been fully degraded. Of Uzbekistan's 21 million hectares of pastureland, 35-37% can currently be considered poor or low-productivity. Furthermore, an additional 1.5% of Uzbekistan's pastures are becoming degraded each year. To address this challenge, Uzbekistan was looking for a simple to implement and enforceable system for rotating herds on public land in a sustainable way. The goal was to halt land degradation entirely by 2024, with land restoration complete by 2030.
Karakoram's submission to the challenge, called 'Pastoral,' was based on a similar solution for the rotation of offshore pelagic fisheries. Given similar solutions success in sustainability for fishing, the Pastoral submission proposed that the government introduce a new tax liability on grazing and grazing animals, possibly on animal ear tags. However, this tax would be substantial and dramatically limit the ability for herders to operate profitably.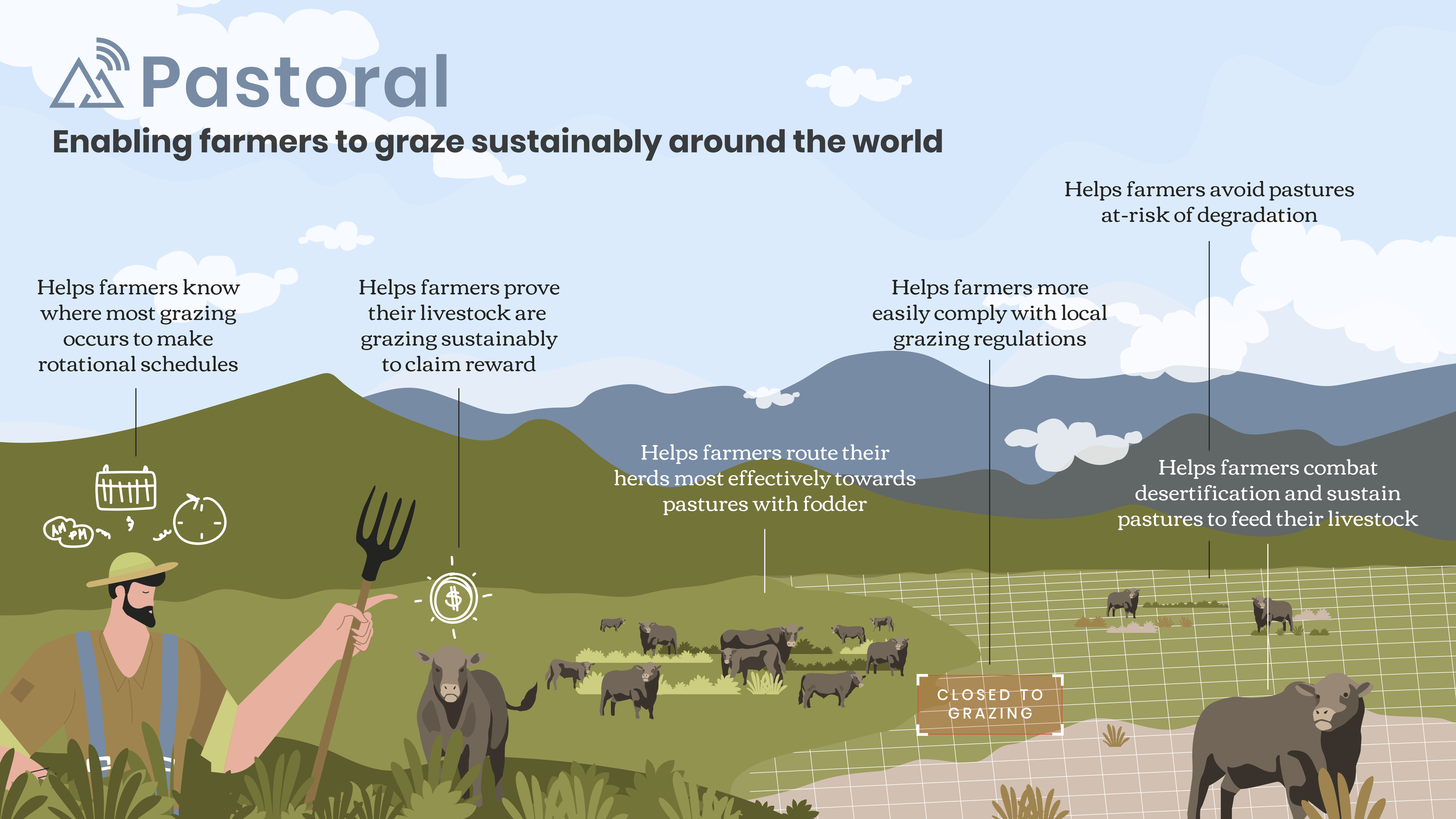 Simultaneously, the government would introduce a new tax exemption stamp that allows herders to avoid paying this new tax.
Karakoram would design and develop a digital land management platform, comprised of:

A mobile application that tracks the herder's location and shows where today's off-limits/on-limits areas are. When they return to areas of the country with any cellular signal, it sends user location data (compressed to work over the most basic of 2G/3G connections).
If the user location data confirms that the herders stayed in the 'approved' areas, a government system issues a unique, one-time-use tax exemption stamp. This stamp is issued from a new blockchain platform.
The herders mobile application receives the unique blockchain code & tax exemption stamp, which gives them a time-boxed tax exemption for adhering to policy.
A secure government portal where areas are set as off-limits/on-limits, as well as a visual display of all tracked herders - giving a unique level of understanding to how the countries herders are operating.
Submitting research and a basic alpha-level prototype, the Karakoram/Glorious Labs team was delighted to be selected by the UNDP as the Cultiv@te Agri-Tech finalist for the Republic of Uzbekistan. This award enables the Pastoral team to have unprecedented access to the Ministry of Agriculture in the Republic of Uzbekistan, and in-country experience.
In the coming months, Karakoram will assemble a small team of consultants in Tashkent to embed themselves in the needs of the Uzbek smallholder farmers, initiating a phase of design learning consultation with the Uzbekistan Ministry of Agriculture. This novel approach to Developmental Innovation seeks to combine cycles of test & learn prototypes, coupled with Design Thinking, Agile software development, and open and empathetic observation of the end-user farmer before any final product is released.
Why Now?
The Karakoram Innovation team is excited to introduce our Developmental Innovation practices both in Uzbekistan and globally, helping to solve some of the world's toughest problems through experimental prototypes and Agile product development methods. This new developmental consultancy method allows us to measure and test a population's response to early iterations before asking for the large-scale grants required by traditional consultancies.
Even in a world dominated by COVID-19, the Karakoram team believes that opportunities to maintain environmental initiatives are paramount. Innovation is more critical today than ever, with opportunities to build new norms, as older obsolete systems are discarded. We develop solutions to tomorrow's environmental crisis even during today's health crisis.
Press: