Why We Brew?
Crafting our culture, one keg at a time.
6th Jan 2020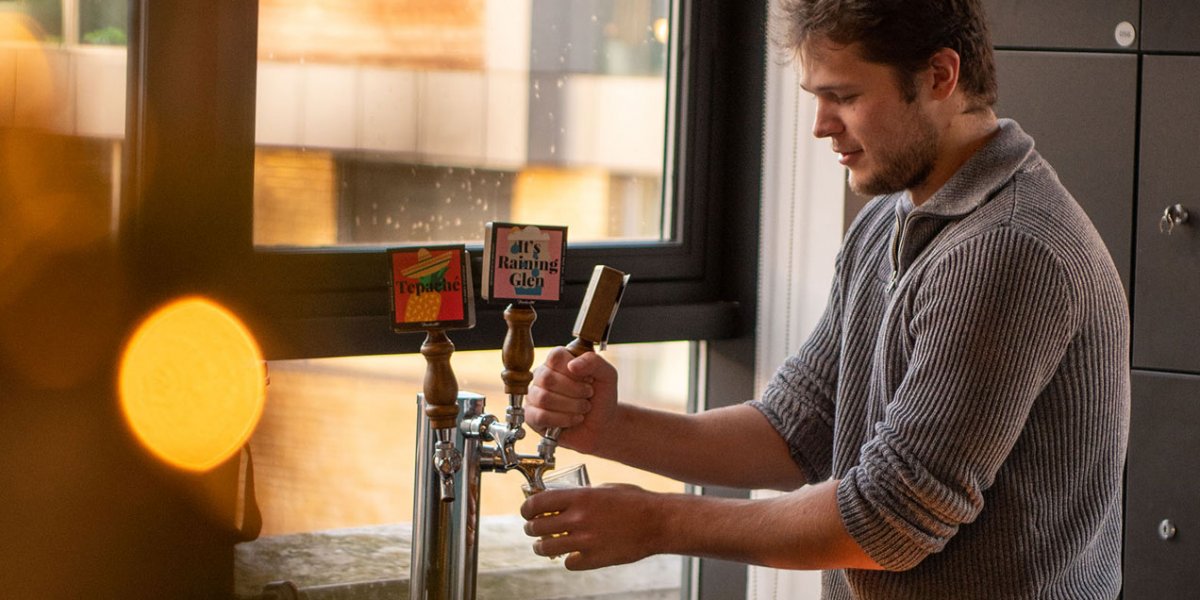 The brilliant thing about innovation is that it has no rules. It can be compulsive, crazy and born-on-the-back-of-a-napkin, inspired by the completely unexpected and often mundane. It is not limited to the confines of a pre-conceived 'innovation lab' space (although we have one of those too), it is a method that is practiced each and every day, permeating the fabric of a company. Often unanticipated, innovation can strike from anywhere; even, it turns out, from a bad beer.
A six-month-old expired Peroni is not a beverage that should ever be consumed, by anyone. While it has the same basic ingredients as any amazing craft beer, what it lacks is the effort, care, love, forced experimentation, and repeated failure that went into your craft beer's discovery, design, manufacture, and delivery. It's a long and messy process; innovation is rarely quick or simple, but it's always worth it.
It was a six-month-old expired Peroni that inspired the Brandwidth team to begin brewing our own beer. We don't mean using a kit or heading to a professional brewery for a "one-off", "special edition", "throw some hops in someone else's work", brewing, we mean "we brew beer" type brewing. Real, patient, grain-to-glass, nano-brewing. And the best part? We do it right here in our office at the end of the Bermondsey Beer Mile.
Designing a nano-brewery that would fit in the back of our London office was not an easy feat. The job required custom furniture, a full 30L electric mash/lauter tun, a separate 30L sparge hot water tank, two 25L fermenters, and a custom refrigerator with connections for three kegs and three simultaneous beers on draft.
But why on earth did we do this in our office. Is it because we can? Because we like to drink? Because we love cleaning up sticky messes and inadvertently spraying the walls with hot caustic cleaner?
All of this, sure. But there's also more.
Brewing our own beer defines our culture as an innovation agency; a bastion of weird experimentation, a safe harbour to attempting crazy things and failing. It is a stake in the ground holding back our instincts to become complacent and rely on the tried and true and it is a banner to our internal staff and external clients that we experiment, we invent, we innovate…and we're not scared of the unknown.
In the six months that we've been brewing, we've created British Bitters, Belgian Saisons with Chinese White Tea and Szechuan Peppercorns, American IPAs, Rye Beers, and even a Pumpkin Ale for Halloween. We've made great beers, good beers, and verging-on-undrinkable beers. And every beer has been offered to our staff, clients, partners, vendors, and cleaning staff in an unending celebration of habitual innovation. We make a bad beer and then learn how to make it better. We make a good beer and learn how to make it great. And finally, we learn how to make a great beer, pat ourselves on the back and remember how to replicate the process in the future.
And, like the work we do in technical & digital innovation during our day jobs, we're constantly researching what is next. For example, should we attempt to make sour beers, or Belgian IPAs? For months, we've been planning to make a White Stout (a beer that tastes like Guinness but looks like Budweiser) and a Black IPA (a beer that tastes like a light crisp summer IPA but looks like a Guinness), simply to counter the pre-engrained opinions of many that the colour of a beer has much (or anything) to do with its taste.
Practically, the business case for installing a brewery was admittedly thin. Out of appreciation to our Financial Director for approving the costs, we named our house beer after him, but to any other type of organisation the not-exactly-insubstantial cost of installing a nano-brewery would be an instant no-go against the deluge of daily costs and a need to balance budget necessities vs creative whims.
However, Brandwidth is no average organization. The business saw beyond the thin veneer toward the subtle-but-powerful nature of this whacky decision and its impact on our staff retention, company morale, and our clients' opinion of us. And while I can't say for sure that us serving our clients home-brewed beer was the pivotal variable in Brandwidth being awarded a £500,000 grant from the UK Government Digital Service to create a life-saving augmented reality platform for emergency workers, or winning a bespoke influencer reporting platform for Nike, I can't say for sure that it wasn't either.
What I can say for sure, however, is that our staff are staying longer in the office – if only to try out the newest batch of Kettle-Soured Saison or to learn how to properly make a new recipe in the evening. I'd dare to say that, despite the cost of installation and operation of our little brewery, it ultimately ended up being a pretty great cost-to-benefit when it comes to the soft metrics of success around here.
The beer that started all of this was horrible, but it was by no means a failure. It sparked an element of our company's culture that I hope continues for many years and helps define Brandwidth in a way that words often fail to. It created a spark of an idea that was forged into a functional element of our offering, and while perhaps not immediately obvious at the inception, became obvious at its outcome.
And most importantly, it keeps us in a constant supply of beer that isn't six-month-old Peroni.