Creating Interactive Entertainment with Happy Meal Toys
Problem:
In the digital age, why does a child care about a 10 cent plastic Mcdonald's toy? In this era, where nearly every child in the developed world either has a smartphone or tablet or access to their parent's smartphone or tablet, is there any opportunity left for Happy Meal toys to compete without a drastic increase in per-unit cost? This question drove McDonald's to create an innovation lead initiative to research any solutions or ideas that would reinvent their toys and make new child-friendly experiences.
The Happy Meal Subway Surfer game we created, controlled by toys clipped to phones running a custom web application.
Challenge:
Rather than trying to compete with a smartphone, the key to this challenge is trying to find every way possible to partner with smartphones, tieing the physical toy with the fantastic array of sensors, touchscreen interactions, and speakers on every phone. To elevate a 10 cent toy by designing them to connect to smartphones either wirelessly, or by clipping them together.
This solution needed to be device agnostic and quickly fit with the changing toy partnerships that McDonald's creates with the various movie, TV, and gaming vendors. Most importantly, it needed to be child-friendly, safe, and educational, fitting with McDonald's commitment to child safety and education.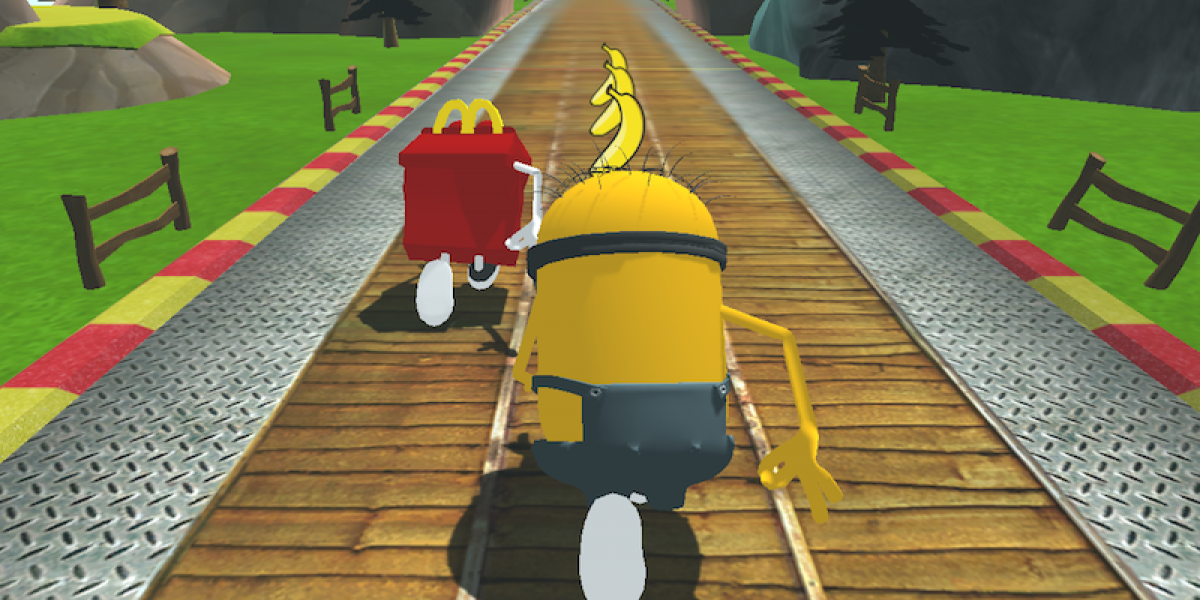 Development:
I completed this project in partnership with The Marketing Store, the world's largest toy manufacturer by volume and supplier of McDonald's Happy Meal toys. With their support, and with access to their entire R&D team and factory in Shenzhen China, I was able to work across the entire spectrum of creative solutions to prototype a wide variety of ways to connect low-cost toys with high impact smartphones.
Our winning proposal included a series of 'clippable' McDonalds toys, which functioned similarly to phone cases. Coupled with a Node.JS & Sockets.io framework, we then created a system for turning these 10 cent toys into 'Wii-like' controllers' for many child-friendly online video games.
Our prototype involved a prototype toy series for the upcoming "Minion's" film and included a series of Minion toys that could be clipped to a parent's smartphone. By scanning a QR code embedded on the inside of the toy, parents could launch a portal on a second device (laptop or tablet), which begins an interactive game. The toy, clipped to the smartphone, operates as a controller for the interactive game, such as a child-friendly version of 'subway surfer,' where the child gets to race Happy, McDonald's Happy Meal mascot, across a fairy tale land.
Result:
The resulting toy gave a fun, multi-player, and multi-generational extension to traditional Mcdonald's plastic Happy Meal Toys, which allowed play between parents and children. With an emphasis on encouraging learning and physical education, the wireless games offered a low-cost alternative to popular 'accelerometer' based Wii games. The multi-person basis of the toy system reminded parents of the importance of play in their children's life, reminding them that "there are only 940 weekends from birth until college."